If you already own a horse, you're already aware of the many benefits horses provide, such as the fun exercise and joy from riding and bonding with your horse. They can be a lot of work, but living on a property that's well-suited to horses makes horse ownership much easier.
If you already own a horse but board it elsewhere, you may be dreaming of the day when you can keep your horse on your own property. Or maybe you dream of owning a horse and are looking for the best place to care for them first. Even if you are familiar with horse ownership and looking for Long Grove real estate so you can expand your equestrian activities, there are certain things you need to be sure you look for when choosing the best property.
Whether you already have horses, are looking to expand your current equestrian team or you are new to horse ownership, here's what you need to look for to find the best horse property to invest in.
Understand the land and area
As you look for properties that come with land, it is important to drive the entire area of the land. There should not be any areas that cannot be reached by vehicle. If your horse is ever injured or ill, you'll want to be able to get to them to help (or get help to them) as quickly as possible.
As you drive over the area, look for any marshy areas, steep slopes or sharp ravines where the horse could be injured. Look for low-hanging trees or bushes that need trimming, because sharp tree branches can scratch a horse's eyes and other areas. Rocky soil can bruise a horse's hooves.
Horses drink an average of 10 gallons of water per day, so having access to clean water is also very important. Finally, fences should be in good shape and not contain any barbed wire.
Check for proper shelter
The shed and primary shelter for your horses should have adequate space and a stall for each horse. The shelter should also have room for some of the equipment you'll need to properly for the horse as well as hay. Find out how much hay can be stored in the barn and in other storage areas.
Depending on the size of the home you're interested in, you will also want to check for run-in sheds in the pasture. Horses need a safe place to go when the sun and heat are high and in case of strong wind, rain, or other inclement weather.
Separate
feed
storage
Horses are built to graze, so they will continually eat if you let them, but this could result in severe stomach pain, colic, or death. If your horses have access to grains, they will eat and keep eating. This is why it's important to find Wynstone homes for sale with separate feed storage areas that can't be accessed by the horse.
Secure tack room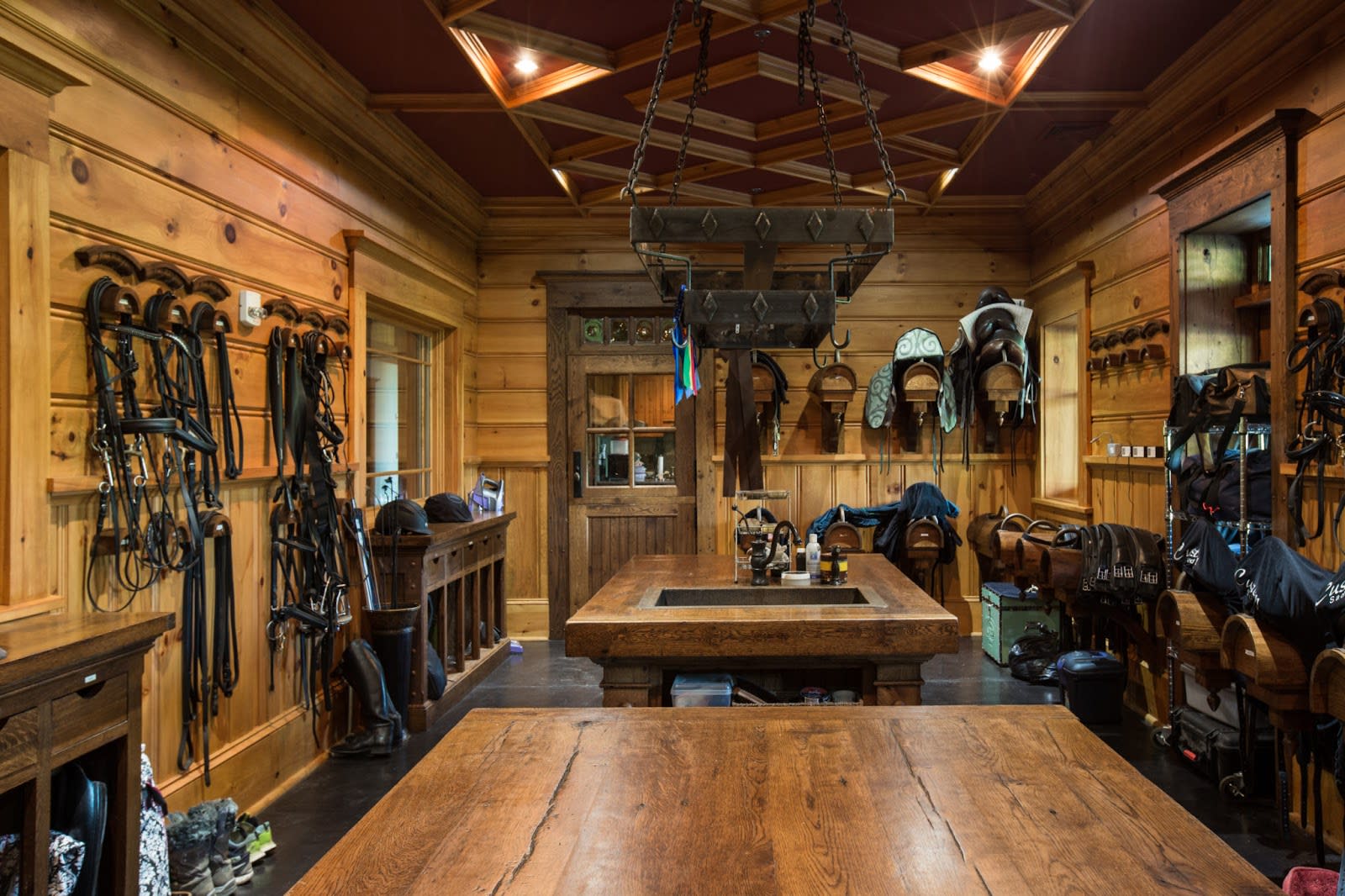 Image Credit: B&D Builders
Having a tack room that is protected from extreme temperatures and unwanted people and pests will save you a lot of money. Good saddles average $3,000. If you have a few horses, the value of your inventory can add up quickly, especially when you add in all your other grooming supplies, medicines, and first aid supplies. These items will all be at risk if they're not stored properly. Mice like to chew on those nice leather saddles, while medicines, first aid supplies, and even leather items can be damaged by extreme temperatures. Your tack room should be secured, sealed, and temperature-controlled against these elements.
The arena
Installing an arena can run upwards of $50,000, so if the property already has one, that is a great benefit. Pay attention to the type of materials used in the training surface areas and how old the materials are. If the surface is sand, it will likely need to be replaced because it breaks down the fastest. If it is made from synthetic materials, such as rubber or felt, it will last longer, but it's also more expensive to replace. There should be parking areas and proper access for trailers to the arena and the barn. Trucks and other heavy equipment will also need to access the feed storage area.
Riding area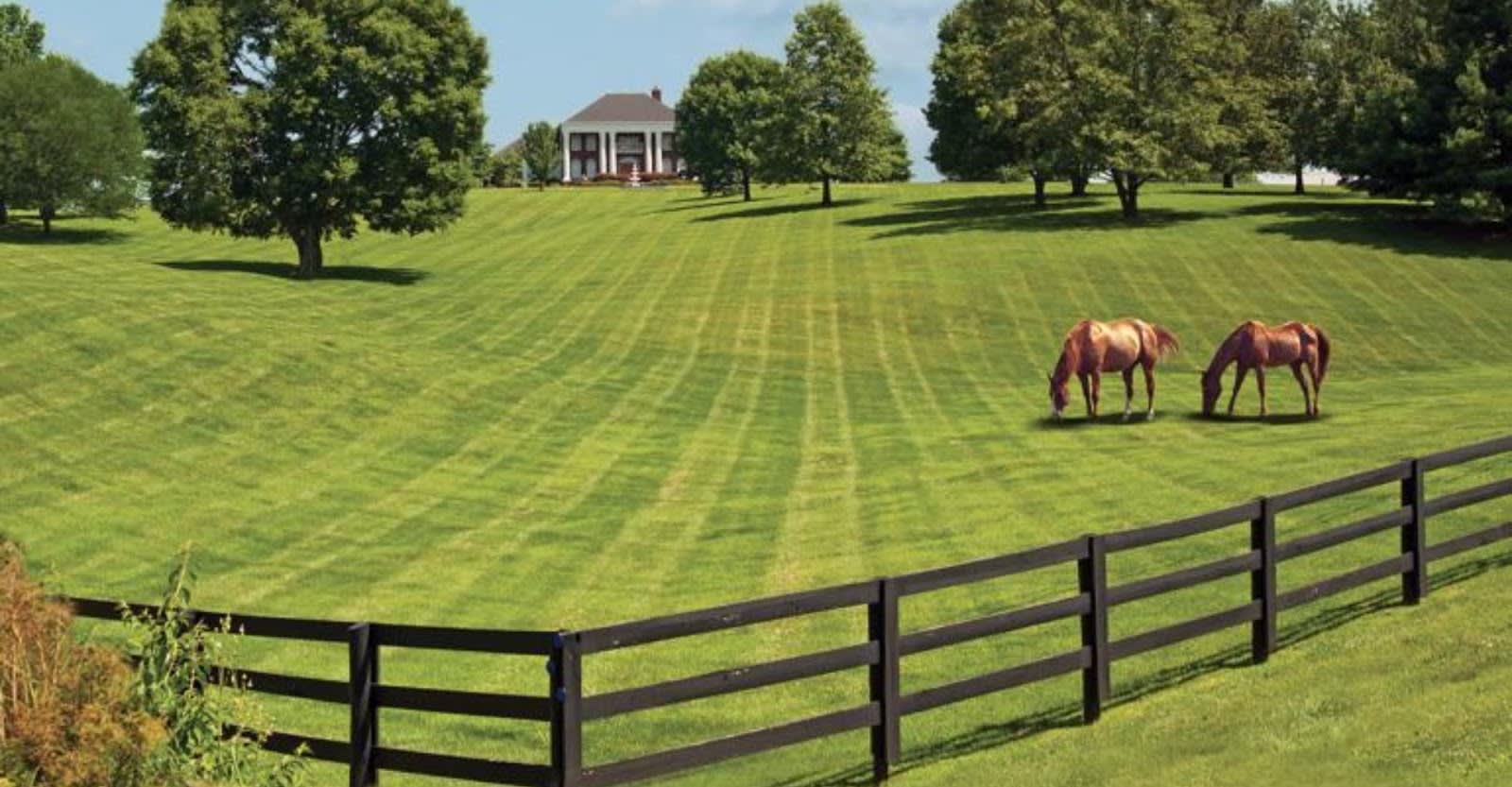 It is so much easier to saddle up your horse and go for a ride right off your property than it is to load them up into a trailer and take them somewhere else to ride. Since the sellers of horse property are aware of this luxury and its selling point, they may advertise a property as having a "ride out" capability. Make sure that is the case. If they are referring to "riding out" onto neighboring land that is owned by someone else and not public property, it doesn't count. The neighboring property owner, even if they are currently okay with people riding across their property, could change their mind or the property could change ownership.
A real estate agent who understands
Working with a realtor who is experienced with horse properties will save you time, money, and headaches. They will be familiar with the local laws and regulations regarding equestrian real estate and will be able to educate you on the processes and procedures you need to know. They will verify any listings that claim to have "ride out" capability and make sure you won't be misled. They will be connected to other property owners and investors who may not have their desire to buy or sell real estate part of public knowledge. They will be your best asset for finding the best real estate for your needs.
Connie Antoniou is experienced with equestrian real estate. She and her team will be happy to answer your questions about the unique process and procedures for buying and selling horse properties.