If you're looking for a luxury home near an incredible golf course,
Wynstone
is the leading Illinois community for gorgeous neighborhoods and designer greens. What started as the expansive country estate of Chicago Philahtropist W. Clement Stone gained the partnership of golf legend Jack Nicklaus. Together, they developed over 370 acres into the thriving golf resort community you see today.

Wynstone has hand-crafted neighborhoods designed to blend with the natural beauty of the land, combining new construction homes with empty lots to write in the dreams of new Wynstone families. Of course, it's not just the tree-lined vistas, beautiful homes, and rolling greens that attract families to one of Illinois's premier gated communities. Among the luxury real estate amenities, you will find restaurants, tennis courts, Friday morning yoga, and so much more — ensuring something to delight every member of the family.


Why will you love living in a
Wynstone Club home
? Let's dive into the top nine reasons residents love this location.
1) Luxury golf course and resort lifestyle

Wynstone was designed to provide more than just a golf course and gated community. The neighborhoods and amenities combine into the perfect lifestyle centered on a luxury golf course and resort. Live every day within walking distance of your favorite green. Enjoy fine terrace dining, relax by the pool, or partake in one of the many monthly events, brunches, dinners, cooking classes, and summer parties for the kids.


You can find the delights you would enjoy on a golf resort vacation within a relaxing walking distance from your front door. The golf course resort lifestyle makes it easy to get your daily walk in the sunshine around the beautiful golf course or practice your swing any day of the week.
2) Beautiful homes in a cultivated community

Living on the golf course isn't just about the rolling green vistas — the homes are gorgeous as well. Every home in Wynstone is designed to evoke a sense of charm and luxury, seeming at once both elegant and cozily welcoming. You will find charming, tree-lined streets forming a canopy over rows of villas, cottages, and estates waiting to become your family home. Whether you are seeking a private escape or the perfect gathering place for your entire family, you can find luxury Wynstone homes in a variety of delightful styles and floor plans.


The cultivated community ensures that the gently curving streets form beautiful arrangements around the region's many small glimmering lakes. Arching driveways and beautifully modern architecture mark each unique neighborhood.
3) Living on the green or the water

In Wynstone, you can choose a home right off the green or an elegant shoreline estate on one of the many small regional lakes. Wynstone was designed to provide every resident a charming and resort-worthy view of the beautiful Illinois vistas of rolling hills, arboreal trees, and glittering lakes. The views themselves are cultivated into every curve of the street and every rise of the green. Out your window and along the walk just out your front door, you will find beautiful views in every direction.


The legendary Wynstone golf course was designed by Nicklaus to respect the natural topography of the land. Because of this, the golf course at Wynstone is a splendid natural park that embraces the inherent beauty of the Illinois countryside. It is woven naturally into the local hills and lakes, and you can find unique and beautiful course designs throughout the green.


Homes in Wynstone offer a delightful variety of natural sights to be enjoyed from any address in the community. Whether you choose a luxury condo, a newly built family home, a sprawling estate, or an empty lot ready for your own personal home design, you'll find an incredible location and lovely views in every direction.
4) Luxurious clubhouse and member amenities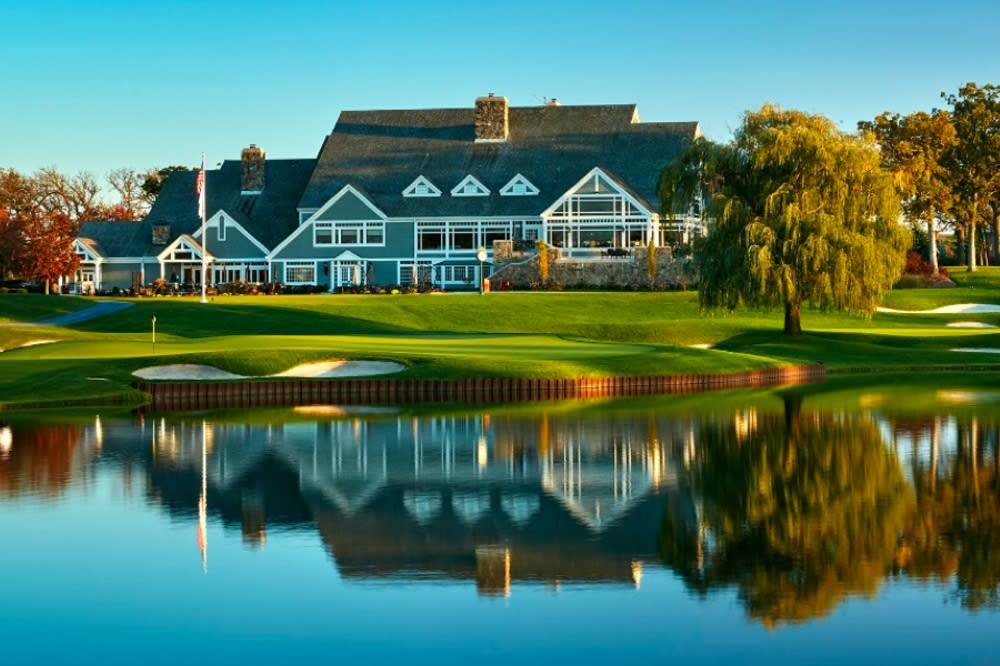 Of course, what is golf club living without the clubhouse? The Club at Wynstone is a signature location with three different restaurant venues, including a poolside cabana and other incredible community venues. The Clubhouse was built in 1989 and has been a welcoming host to community and family events ever since.
In 2017, a group of nine families purchased the club to transition its costs off the shoulders of the community. Today, you can celebrate golf and resort living throughout the beautiful venue spaces, pool, and fitness areas.
5) Delicious clubhouse dining with three venues
The Club at Wynstone is home to
three beautiful dining venues
. Residents and guests can gather at the Nicklaus Bar & Grill for formal dining. Enjoy the dining room with high vaulted ceilings and spacious windows overlooking the golf course.
For a more casual air, stop by Terrace Grill. Indoors, you will find a lively pub-like atmosphere with hearty dining and a stone fireplace. Outdoors is a glowing terrace that overlooks the golf course for delightful al fresco dining.


You can lounge by the pool and enjoy light snacks and lunchtime treats from the Cabana. This family-friendly venue is open not just to seated tables but to children who can grab snacks throughout the summer season between big splashes into the children's side of the pool. Whether you seek refinement or vacation-like abandon, the venues of Wynstone have it all.
6) Beautiful event spaces

The Wynstone clubhouse features three private dining rooms and several other small yet beautifully decorated spaces open for event booking. You can host family reunion dinners, hold club meetings, invite business partners to an elegant evening, or plan a special anniversary night with your spouse by booking one of these community rooms.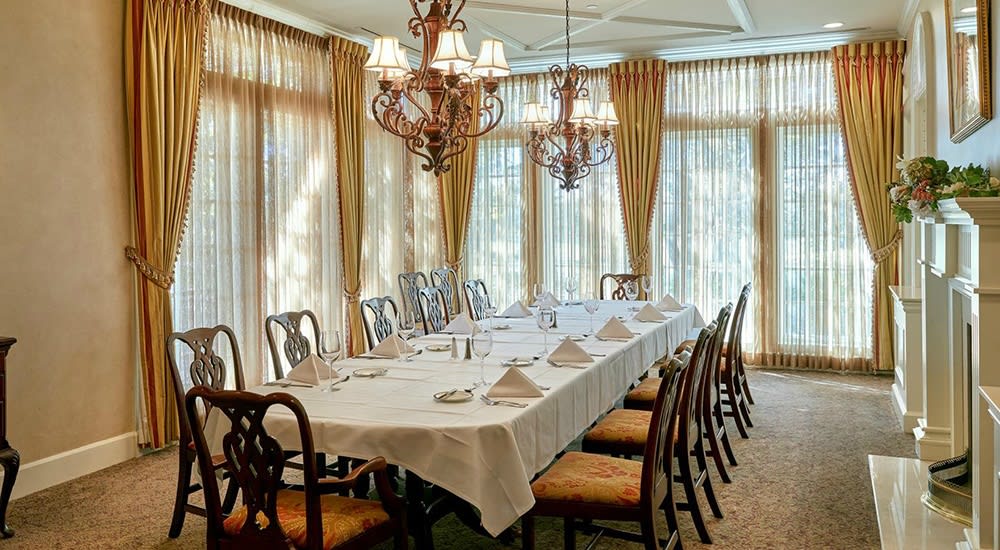 The Signature Room is a boardroom-style dining space capable of seating 14 people. You will enjoy a majestic fireplace with two matching chandeliers illuminating the entire length of the table. With high ceilings and large windows, you will enjoy beautiful nighttime views or warm natural light.
The Library is a gorgeously wood-paneled private dining space that can seat 16 among the museum collection of Jack Nicklaus memorabilia. This cozy and unique space is perfect for a warm dinner or regular clubhouse meetings of member-formed groups.


The Barrington Room is an elegant event space suitable for 60 people or a private function. The room features a large fireplace and vaulted ceilings with a view of the golf course. The room can also be opened to combine with the adjacent Nicklaus Grill for dining events of up to 200 people.
7) The many easy ways to stay fit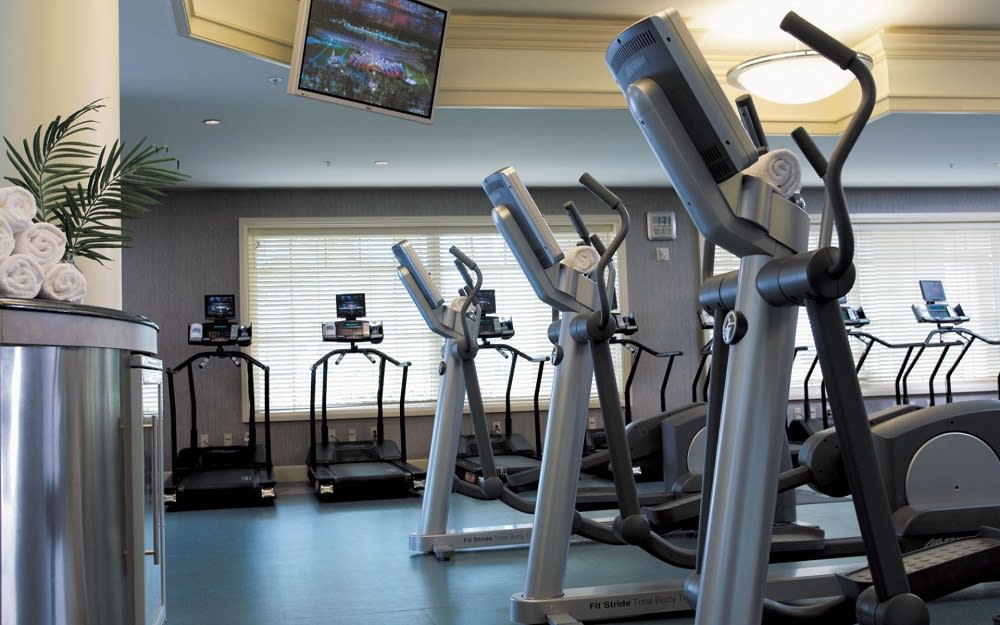 Fitness is an integral part of a luxuriously rewarding lifestyle. When your body is well-balanced, you will be best able to enjoy the resort amenities. This is part of the appeal of a golf course community, where one can walk the perimeter and course of the landscaped green and surrounding natural vistas.
Of course, taking a daily nature walk is not the only way to stay fit in Wynstone. You will find that the clubhouse features an expansive internal fitness center combined with a pool ready for lap swimming and nearby tennis courts designed for games both day and night.


The fitness room features free and guided weights, treadmills, ellipticals, Peloton bikes, resistance and yoga equipment, and space for indoor floor exercises. The pool area has a separate toddler wading area, and the deep end features cordoned sections for lap-swimming.


The tennis courts are across from the pool and through the Tennis Pro Shop. You will find four Har-Tru surface courts, two hard-surface courts, and two pickle-ball courts. All are well-lit for nighttime play plus daytime games, and there are community tennis programs for men, women, and juniors.


You will find spacious men's and women's locker rooms, each with a private lounge inside, to facilitate the use of the fitness room, tennis courts, and pool. These areas are the perfect place to freshen up after golfing and long walks, runs, or bikes around the green.
8) Family-friendly pool and summer activities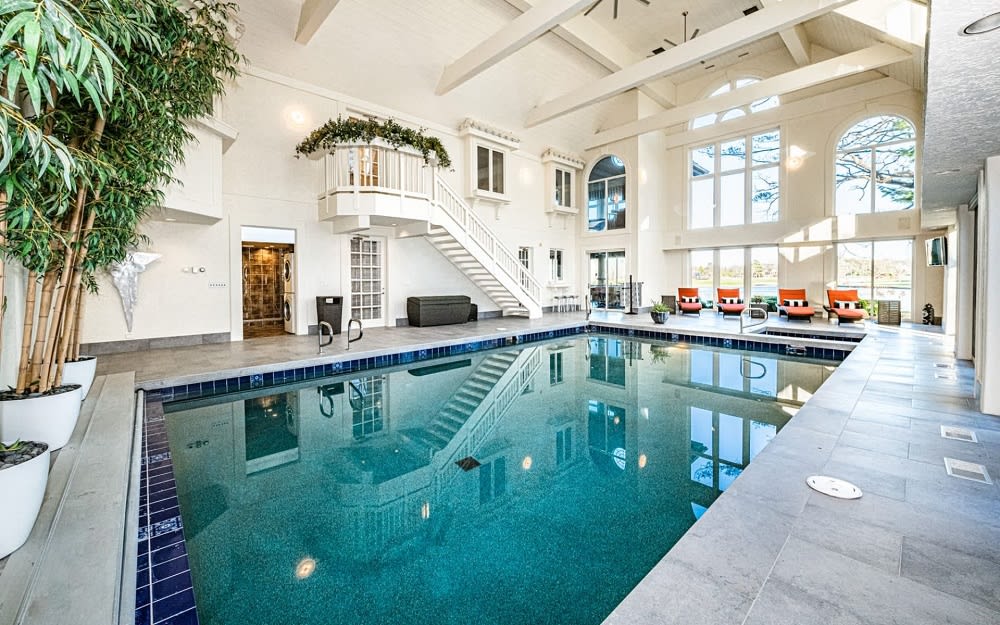 Many families love to live in Wynstone because it is a family-friendly golf resort community. Many communities designed in the country club model are intended for adult enjoyment only, but Wynstone was created with the future in mind. The pool features a toddler's wading section, and the Cabana poolside restaurant is prepared with kids' favorite lunchtime baskets and snacks.
Junior
leagues and summer programs
for children interested in tennis, swimming, golf, and other fun kids' events are offered throughout the year. If you want to kick back in a golf resort community that can provide fun and involvement for the whole family, Wynstone is the perfect nest for your growing chicks.
9) Community website membership and management

The Wynstone website has an entire portal built just for residents. With your login, you can access community events, reserve a table at the clubhouse, book a private dining room, or sign up for one of the many classes, clubs, and leagues constantly active in the Wynstone community.


Having an online feature is a good sign for a modern community, and Wynstone truly goes above and beyond in providing resident homeowners with the tools they need to engage in a comfortable digital atmosphere.
Come home to Wynstone

Living in Wynstone is rewarding for the whole family. Whether you are here to enjoy the championship golf course, access the excellent nearby schools, or live in a place where you can take nature walks and play tennis every day, you've come to the right place.


To find a luxury Gainesville home in the Wynstone community, you can contact
Connie Antoniou
. Discover and explore the beautiful options to buy or even build your own home among the beautiful trees and lakes of the gated Wynstone golf community.